Firstly, it was an amazing conference of 2.5 days. The first day started off with an Intensive workshop which featured great speakers sharing their experiences, process and artworks. What is helpful to know is how they overcame their obstacles like the printing error, figuring out their style, about their relationship with the Art Director and so on. Below are my favorite / helpful lines that I managed to catch through the interpreters.
"Style developed from problem-solving issues during the process of experiments. It is more about how you think and problem-solve. It is the intersection of all styles that you have tried. It is like your personality." - Shaun Tan
"Always move forward. Get to know your inner artist and inner critic. Take care of yourself. Let go of the outcome and control. Work when you're sleepy. Doodle. Believe in magic." - David Ezra Stein
"Art never finish. Unfinished art can be a winning piece." - Floyd Cooper
"The book is the finished art." - The Brothers Hilts
It is interesting to hear their different viewpoints and I couldn't help agreeing that both are right. Art has a lot of layers like a croissant.
You will want to remember this. "In conclusion: Love your Art Director." - The Brothers Hilts
That sweet laughter moment when they showed a photo of their cheerful A.D. Cecilia hugging her dog. I smiled at my first immediate thought of A.D. SooJin, Chris and their min-pin, Sota.
"Always let the agent be your advocate. Don't contact the publisher and art director directly if you are upset / angry. You don't want to break the relationship with them." - Panel discussion talk
On Saturday and Sunday, some of the talks related to writing for young fiction and children's books. Nonetheless, writing and illustrating have a common ground in telling stories and it helps the writers and illustrators to understand each other's roles better, and even more useful for people who work as author-illustrator.
"Art is hard work." - Faith Ringgold, shared by Isabel Warren-Lynch who looks for emotional connection in your works.
"
You won't get fame and fortune if you ignore the deadline.
" - Tomie dePaola ( It was a huge honor to meet a living legend. He was the one who fought for the i for the Illustrators' community for Children's Books that resulted in a complete name -
SCBWI
. )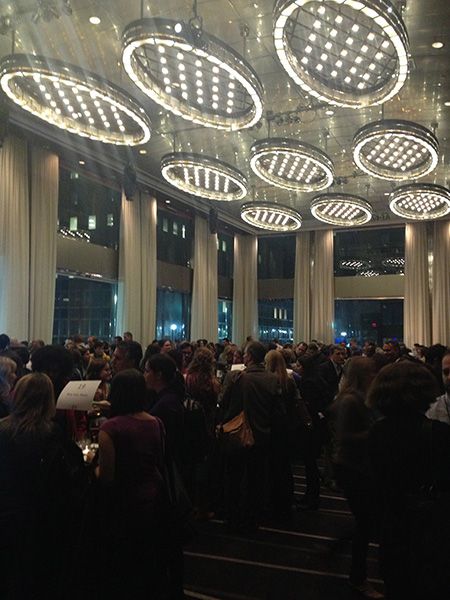 Gala dinner party at the Grand Hyatt New York Hotel
I have to say the food was really delicious. Aside that, it was a good event to socialize but I realized it wasn't easy to locate the editors and art directors among the sea of professionals and enthusiasts despite of the name tags on everyone. Nonetheless, what is most important is to make new friends and build a relationship with different people. Indeed, they are really nice people and I'm glad to meet them -
Yohey Horishita
,
Isabel Roxas
,
Misa Saburi
,
Lori Nicholas
,
Alicia Schwab
and
Karen Sandler
. It was also quite a joy to meet
Lori Degman
who knew sign language and it was somewhat comforting to communicate in sign language with her like your home language.
"
No matter what the situation is, we are very lucky.
" - Julie Andrews who was there to give a talk about the pleasures and pitfalls of writing a series with her daughter, Emma Walton Hamilton. Both had created the Children's book series called
The Very Fairy Princess
that resulted in New York Times best-selling list. It's also another honor to be able to see and hear her with her daughter, Emma at the conference as Mary Poppins was one of my favorite films and how my siblings and I entirely enjoyed watching it during our childhood days.
As the conference was really packed with activities and talks, time flew quickly and soon, it ended with the autograph party.

When I asked Shaun Tan to pen down his favorite quote, he wrote: "The most important thing is the one you can't explain."

My first thought was about his story, The Lost Thing. Very true.


"Don't stay up too late!" - The Brothers Hilts
That's so true. We all need that reminder but often, we break it till sickness pushes us to bed. (I'm trying not to do that.)
Somehow, it didn't feel like the end of the conference as there was so much energy in the air. Needless to say, I really had a great time and it was very helpful for my professional development as a Children's Book Illustrator.
Above all, I have so much thanks and gratitude to the SCBWI and Ms. Sarah Baker for the scholarship and conference, to Ms. Sara Rutenberg for arranging the Interpreter Service for all talks including the workshop and social events that it went so smoothly, to Ms. Deborah Healy, my Professor for her strong support and guidance in my works, to Ms. Tammy Walsh, VP of Ringling College of Art and Design, Mr. Jeff Schwartz and Illustration Faculty, Ms. Laura Lamb, Student Government Association, clubs and the school for their kind support in sponsoring my trip, hotel and expenses. It is one of the best memories ever in my life and I'm extremely grateful for it. Thank you so much,
SCBWI
and
RCAD
once again.
I admit I teared up a little when I arrived at the hotel room located on 28th floor and gazed out of the window. It felt so surreal. I whispered, "Mom, wish you are here to experience this with me just as how you have brought me to experience the joy of drawing and seeing art especially in times of sadness."